Gerolyn & Brian ~ Engaged! Downtown LA
At the beginning of the year I received an inquiry and in the "who referred you" area it said "photographer friend". Well, I figured one of our photographer friends referred this couple and figured I'd ask who it was when we met with the couple. So fast forward to the day we meet with the couple, we see them walking towards and the groom-to-be gives Art a big hug. Art looked taken aback because grooms are usually not that friendly :P but we soon realized that the photographer friend they mentioned was Art! You see, Brian (the groom to be) is a childhood friend of Art's. They lost touch as the years passed and they hadn't seen each other in a long while, but somehow they found us. I also met Brian when we were younger and the last time I saw him we were probably about 15 or 16. It's crazy how time flies! Now he's engaged to a beautiful woman and will be getting married very soon! The best part for us? We get to photograph their wedding!
We also got to photograph their engagement session. They wanted to use the Downtown Los Angeles skyline as their backdrop and they also wanted a night session. Even though we've done a few sessions here, I loved the idea they had to use the city where they grew up and, of course, I am biased since this is our city too. I love the city lights theme. Like I mentioned, we've done other night engagement sessions here (You can check one of my faves by clicking
HERE
), but Brian and Gerolyn wanted more of an off camera lighting look. I loved how the images came out. I hope we have done justice to what they envisioned.
We started early to be able to get some day shots and they could have some diversity. Here are some of our faves.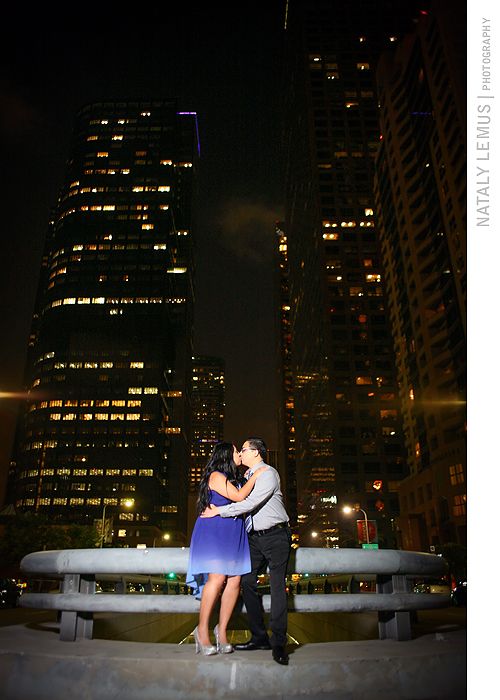 Nataly Lemus Photography, downtown la photographer, night shoot, shots, photos, pictures, e-session, pics, city lights theme,romantic, blog, LADWP building, John Ferraro, night time shoot