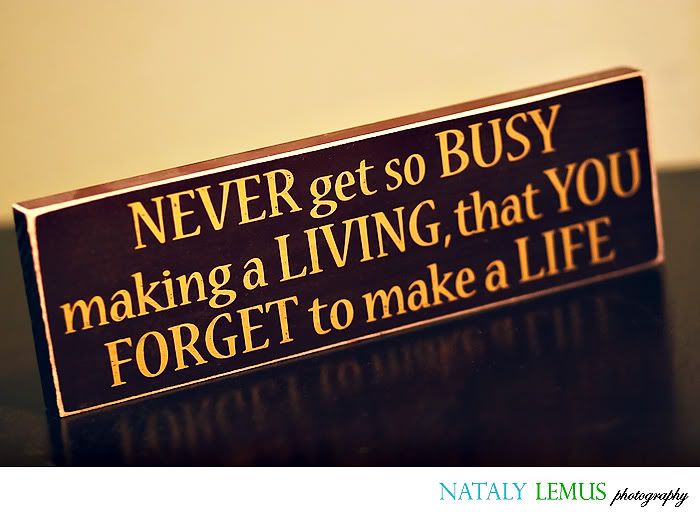 Every now and then Art reminds me that I NEED to turn off the computer. That there's life outside of work. That's when I feel a pang of guilt. You see that sign above? Art bought that for me about 6 months ago to remind me to never get too busy that I forget about living our life. I promised I would take it out the newspaper it was wrapped in and put it on the night stand next to my side of the bed. It didn't get done until a couple of weeks ago. Why? Because I am always too busy (how ironic). Too busy for my husband, for my family, for my friends. I'm too busy with work to live my life. I enjoy photographing weddings and capturing the happiness that others live while with those they love that I forget that I too have family and friends that need and want me to share happiness with them. I'll admit it on here so that I can be embarrassed, at times I almost feel that life is getting in the way of business. That is a shame. Nobody should ever feel that way! I get so caught up with giving 100% of myself to the photographer side of me that I forget that I also need to give 100% of myself to being a wife, daughter, sister, cousin and friend to all those I love more than anything else in life. I need to give 100% of myself to...who else? myself! I need to work on de-stressing and doing all the things I love because I am not willing to let life pass me by!
With that said, Art and I went on our first date in a very looooong time! We decided to do something we had not done since we were like 15, miniature golfing. We also played at the arcade, shared a paleta, and he won some...how should I say this?...interesting glasses for me. Afterwards we went to In N Out (yum) and then watched a movie and shared a big bag of popcorn. Perfect date, if you ask me! This is just the start! I promised Art and myself that I will make a lot more time for us, for our life. If I don't, he can always pull this post up and hold it against me, but it won't be necessary because I value my time with Art and I wouldn't trade it for anything in the world!
Here are the spiffy glasses I got to rock on Saturday. Don't hate :p If anyone wants to borrow them, you know how to contact me!
Have a great week, everyone!