If you've been following our blog since the beginning, you know we are hardcore Laker fans! I don't mean fans since three years ago when they went to the Finals. No, Art has been a fan since he can remember and I have been a fan for about 10 years now.
So for those of you who know we are big-time fans, you know I had to make a post about the World Champion Lakers!!! Again! Yes, they are back to back champions!!! This win was sweeter than
last years
! For one, the Lakers were at home!!!! Also, it was against the Celtics! Can we say rivalry? Then Paul Pierce decided to say they were going to sweep us in Boston. That, I'm sure, made all Laker fans want the win that much more!
All in all, it was an amazing series. I enjoyed the ups and the downs made the win that much sweeter. I have not blogged the games we were fortunate to go to (hopefully I still will), but I guess I have not been a blogging machine recently. As a matter of fact, I don't think I blogged about the Lakers this whole season. If you follow me on Facebook, though, you know I bombard that place with all things Lakers :P I promise I will blog the ring ceremony we went to last year (eventually) and hopefully we can go to this year's ring ceremony and blog that, too! ;)
We had so much fun tonight with some of our closest people. The house was loud pretty much throughout the whole night and I'm almost sure I am going to have no voice tomorrow!!! After the game we went to join the honking all over the city. Thankfully we were around a great atmosphere and nothing crazy happened. Everywhere you looked people were giving high fives, people playing "we love LA," a lot of honking, screaming Lakers. Thankfully no drama like what we saw on the news.
Well, it's late and I am all tired out from all the celebrating so I'll end it by saying: GOOOOOOOOOOO LAKERS!!!!!!!!
I'll leave you with a few photos from tonight's celebration :)
On the left is Art, of course :) The middle: my cousin posing with the ball Art got signed by Kobe. On the right my cousin and I on our way to celebrate, just like last year. To see what we did last year,
click here
. We did it again this year :)

I lost my sock while celebrating :P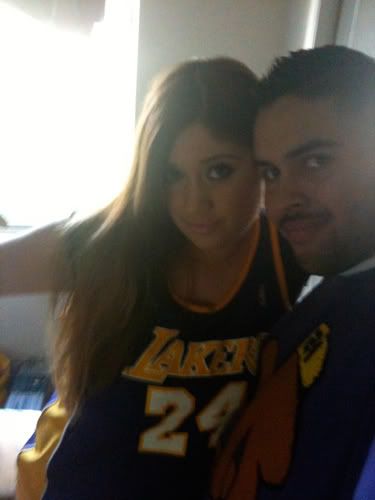 I did not get to take too many photos of the celebration on the streets of LA because we were in the car at all times, but I did get this one with my phone. I might upload some other ones we got with the point and shoot.
Bring on the parade!!!