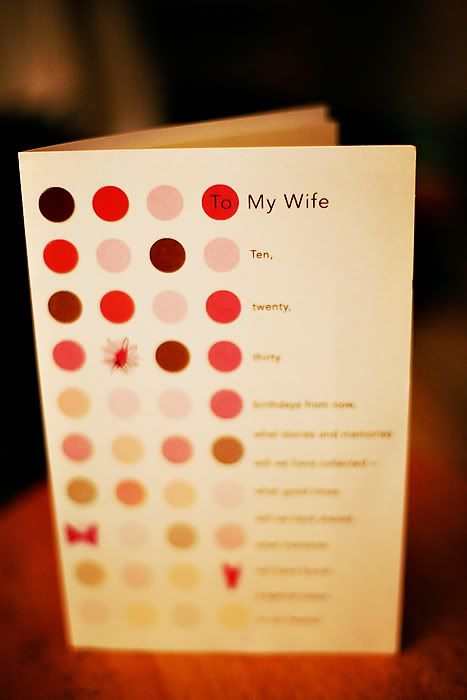 Can you believe I'm only an hour or so into my b-day and I already managed to shed a few tears of hapiness!
Art gave me a beautiful birthday card with the most beautiful words he has ever told me. It's hard to believe that even though we have been together for over 10 years we continue to love each other intensely. Like he said, "with every birthday we have one more year of beautiful memories collected, fun times shared and we have one more year of forever."
Major points to him! He has really made this my "birthday week." On Monday he gave me the Disney movie I told you guys about, On Tuesday I got a nice Halloween/Frankenstein photo frame (I love Halloween!), Wednesday I got some cute tube socks I've been wanting to buy but I kept complaining that they were too expensive, and Thursday I got a huge bouquet of sunflowers, my favorite chocolates, my favorite snack, my favorite magazine and a cute little bear that reminds me of a childhood bear I had... Yup, he definitely earned some major points :P They were all small things that make me happy (yup, tube socks make me happy :P), and he put a lot of thought into it, that's what means a lot to this girl.
A huge thanks to all my clients and photog friends who have sent happy birthday e-mails this week! You guys bring a huge smile to my face -------> see :)
I am seriously a happy woman! God has blessed me immensely. I could not ask for more. He has blessed me with an amazing husband, a loving family and wonderful friends. Life is good!
I am off to get some sleep because I have a long birthday weekend! I will spend today with my family and friends and tomorrow we are off to Las Vegas!
I'll be back Monday!