Long Beach, California
When Fabbie and I were in talks about her engagement session she told me that her fiancé, Jorge, was pretty shy in front of the camera and that he might be nervous. I told her not to worry because I would make him feel comfortable. Well, when I met with them in Long Beach for their engagement session it turned out that the nervous one was Fabbie! I am not talking about just a little nervousness, but REALLY nervous, which is understandable since most people are not used to having someone following you with a camera. Lucky for me that Fabbie's nervousness revealed itself with giggles and smiles!
I made sure to start off where there were not too many people. I get a point for that because sure enough, Fabbie and Jorge were very comfortable in front of the camera within minutes. By the time the session ended 2 hours later it seemed they even forgot I was holding a huge camera right next to me.
I loved that Fabbie and Jorge incorporated their personalities into the shoot by bringing a few items. Not only that, but they were not shy to ask for a certain image they wanted me to take, which they saw on my website.
When we got ready to say our goodbye's Fabbie thanked us for making her feel so at ease. By her letting me know that we were able to make her feel comfortable, I know we did a good job :)
Like I've said before, I love engagement sessions because that is when I can get to know the couple better. I can find out if you are shy, nervous, what makes you feel comfortable, etc. When I am done with the e-session I can't help but be even more excited to photograph the wedding. I really leave an e-session feeling way more close to my couple.
Fabbie & Jorge: Thank you so much for being so open and trying everything despite being nervous! You guys rocked the session. I can't wait for the wedding! I am sure you will be total pros by then :)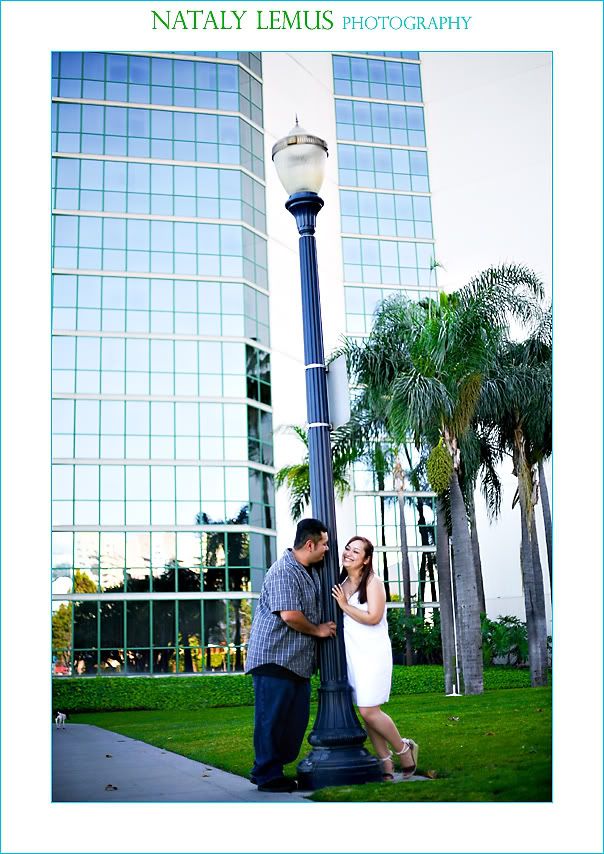 I noticed that when I said "this is just a test shot," Fabbie and Jorge would just relax and act silly. Sooooooo, from then on I kept taking "test shots" and got some awesome images :P Shoot! I let out my secret ;P
Fabbie asked me to take this shot because she liked a similar image on my website. They even named the shot "peak-a-boo!" I like that!
Fabbie & Jorge love their Gameboy DS so they wanted to incorporate them. I love it when couples personalize their e-session.